---
RAF Wainfleet Bombing Competition 2001
16 March 2001
After the success of the 1999 bombing competition we were all rather looking forward to the 2001 event. Unfortunately the organisers requested that the public did not attend due to the outbreak of foot and mouth disease in the UK at that time. However, a few of us were very fortunate in being able to attend as guests of the organiser on the Friday, although of course our movements were restricted to reduce the risk to the animals in the fields nearby. I understand that the local brewery, Batemans, supplied a crate of 'Yella Belly' organic ale to the winners, who were 20(R) Squadron, RAF!
Here are a selection of movies and photos taken on Friday 16 March 2001. The photos are all frame grabs from the video footage I took on the day. Much of the action was too far away for the biggest 35mm SLR lens I had at the time (300mm), hence the use of the Digital8 camcorder for most of the day as it has a 25X optical zoom (equivalent to around 1100mm in 35mm SLR terms).
This Harrier T10 was not part of the competition, presumably it was over from Wittering for some conversion training. It didn't fire anything, but that didn't prevent it doing a fast turning pass for everyones' benefit, resulting in the two shots below and a video. Check out the vapour on the upper wing surfaces!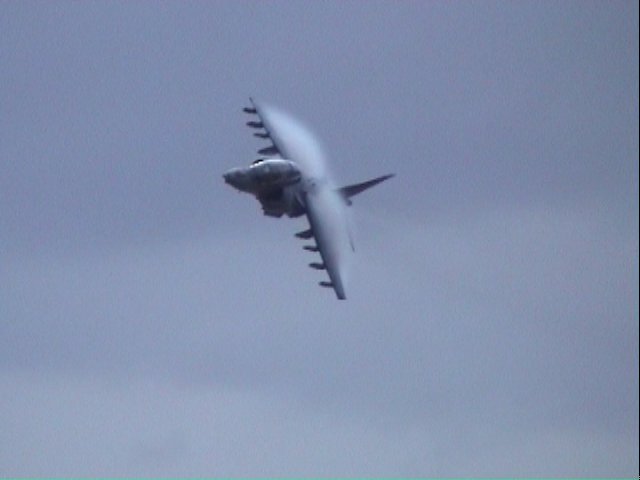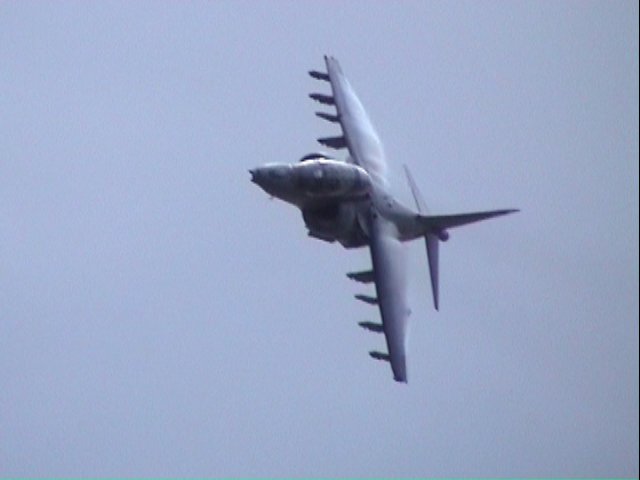 The 48th FW, USAFE sent a number of F-15Es over from Lakenheath during the day. As well as running in straight, they also have a very dynamic way of bombing visually. Below is a video of various attacks, and a photo of an F-15E with vapour wrapped around it as it was running in to bomb target 4 (the barge), and a photo of the end result.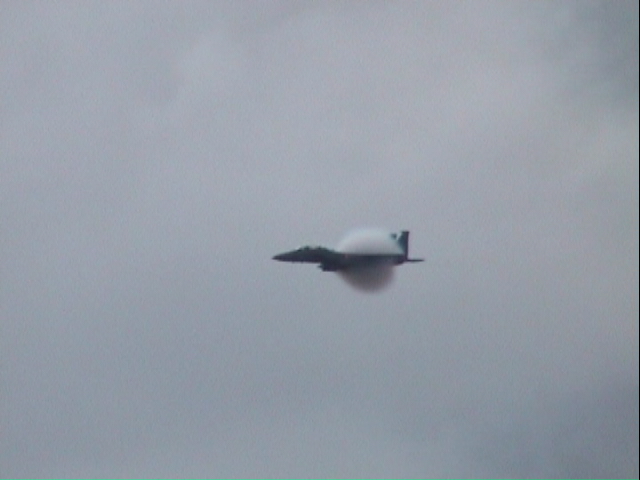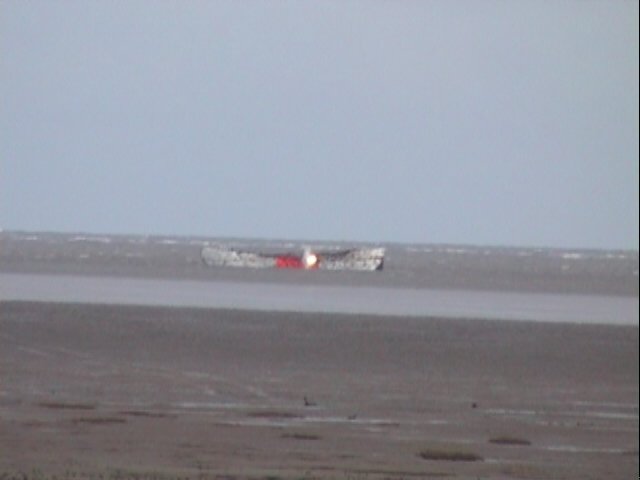 Obviously the RAF's Tornados featured heavily in the day's activities. Below is a shot of a GR4 dropping a practice bomb on target 5, the circular target on the mudflats just offshore: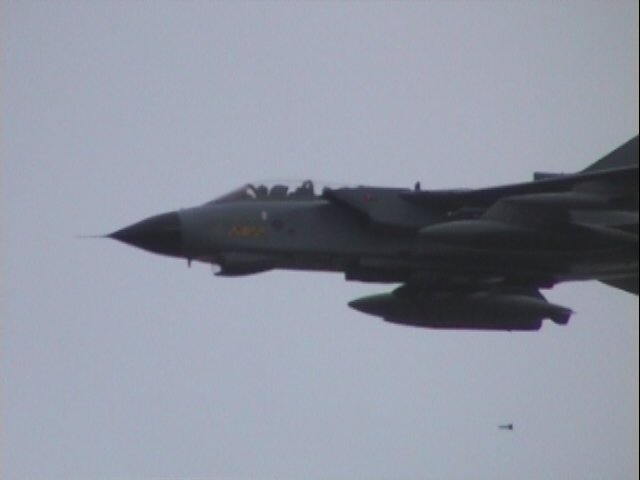 RAF Valley's Hawks were entertaining. Four of them showed up on the Friday, with great low-level runs at target 4, as well as target 5. Below is a video and two photos of them in action: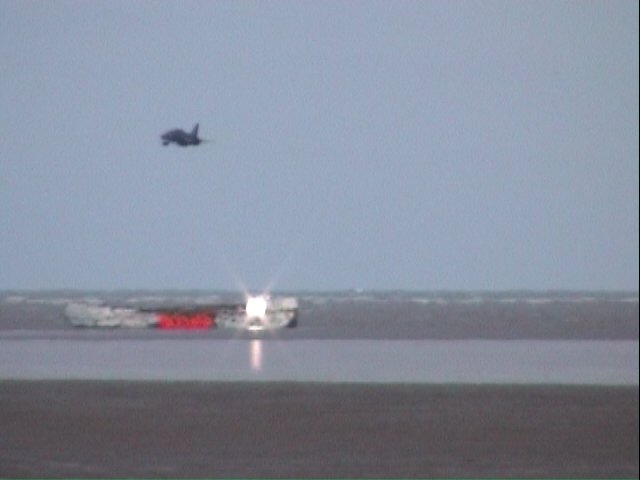 The Royal Navy sent a contingent of four Sea Harriers, which flew various attacks:
Four RAF Jaguar GR4s rounded off the day's activities in style. This photo shows the results of an attack on target 5: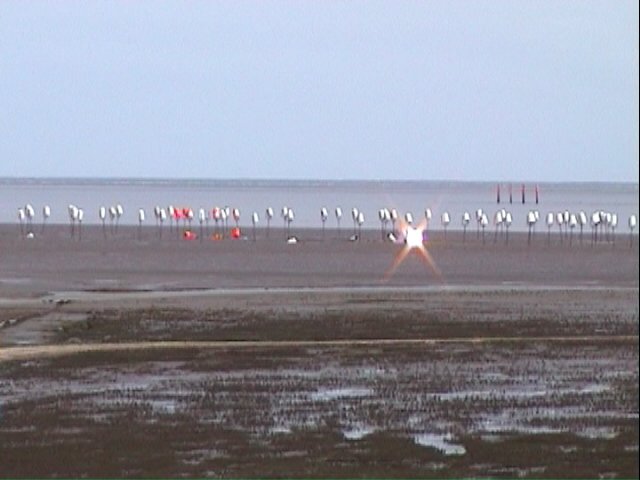 Best of all though, after their bombing runs the Jaguars strafed target 5 with their cannon! Make sure you turn the volume up for the video: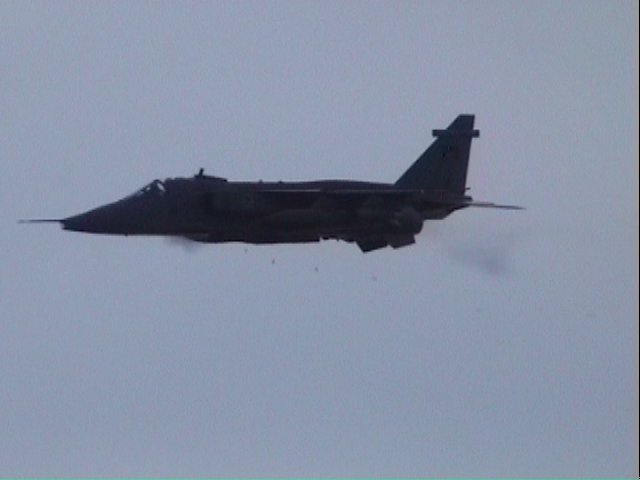 ---
The Results
Unit Scores
The unit and individual scores were adjudicated by independent umpires. The following scores are the average for all bombs dropped by that unit. To qualify at least 16 bombs had to be dropped. Two units did not qualify but their scores are shown below:
| Position | Sqn/Unit | Aircraft Type | Score |
| --- | --- | --- | --- |
| 1 | 20(R), RAF | Harrier GR7 | 60.82 |
| 2 | 19(F), RAF | Hawk T1A | 57.13 |
| 3 | 6(F), RAF | Jaguar GR4 | 52.38 |
| 4 | 54(F), RAF | Jaguar GR4 | 36.75 |
| 5 | XIII, RAF | Tornado GR4 | 34.95 |
| 6 | 3(F), RAF | Harrier GR7 | 34.00 |
| 7 | IX(B), RAF | Tornado GR4 | 31.34 |
| 8 | 19(F), RAF | Hawk T1A | 30.82 |
| 9 | 494th FS, USAFE | F-15E Strike Eagle | 28.75 |
| 10 | 41(F), RAF | Jaguar GR4 | 24.00 |
| 11 | 492th FS, USAFE | F-15E Strike Eagle | 11.56 |
| 15 bombs only | 800 Sqn, FAA | Sea Harrier F/A2 | 59.17 |
---
As usual, my partner on this trip was Paul Osborne, and he has a page and photos up as well on his UK Airshow Review website.
---
---



Nick Challoner: nick@challoner.com