---
Toyota MR2 Mark 1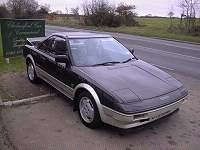 This section of my website is dedicated to the original Toyota MR2, built from 1984 to 1990. It is a truly fabulous car to drive and own, and cannot be beaten for value and thrills when the handling, performance and low purchase price are considered. For those reasons it also makes a superb track day car. I will be adding some video clips from my track days very soon. Below you will find a selection of photos of the car and a set of links to pages detailing upgrades, maintenance procedures and other items of interest.
Although I currently do not own an MR2, I still have a strong interest in them, and this section of my website will remain here and continue to be updated in the future. My car was an early example, being built in 1985. The coachwork is a dark metallic green over light metallic gold, known as Sherwood Toning. The picture of my car on the left was used in the advert I saw in the online version of Autotrader that eventually led to me buying the car. You can find a selection of photographs of my car further down this page. Here is a current list of articles:

---
Photos of my MR2
Here are some photographs of my old Mk1 MR2, a 1985 example in Sherwood Toning colour scheme. Click on them for full size versions. Most of the articles above have additional photos relating to the article itself (close-ups of new components etc).
---
---